Traveling can be a Naturalista's worst enemy. And you may have a lot of flying, in the near future, for business or with the holidays coming up. My salon Project Manager, Libryia Jones, just organized and embarked upon a four-continent, yearlong travel experience with her daughter (and 30+ others) called
MyWanderYear
(
@wanderyear
). With all the traveling going on, it got me thinking about the negative effects of air travel on natural hair and how our clients can overcome them.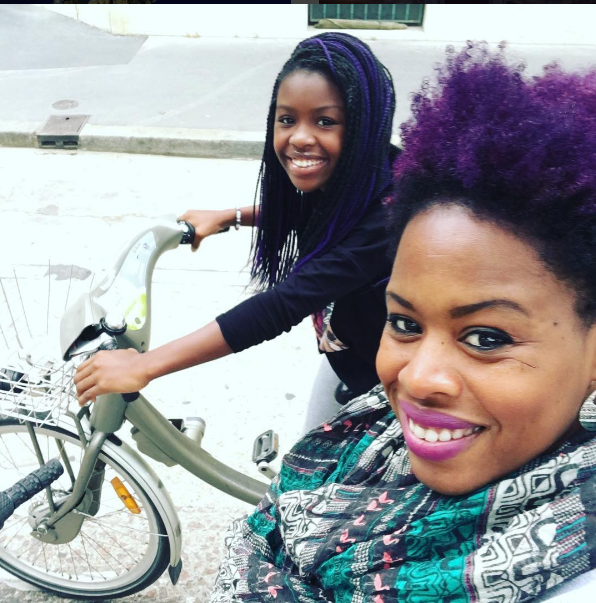 Cycling through Paris. Source:
@wanderwomaninc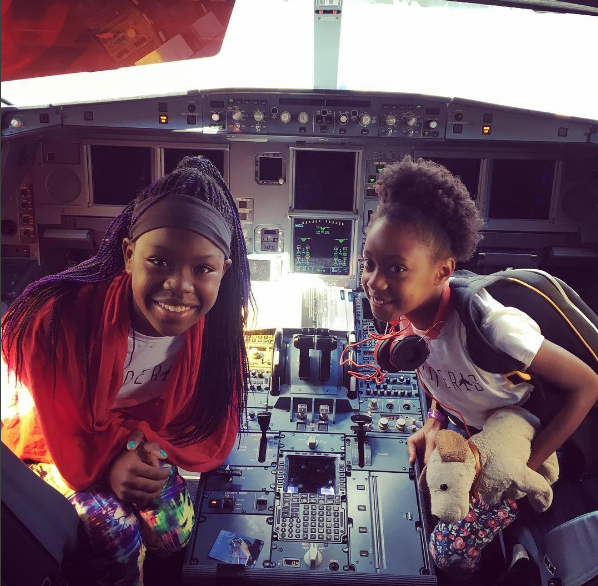 Taking off to Prague. Source:
@wanderwomaninc
Air travel is really hard on natural hair. Airplanes are pressurized and use continuously circulated, low humidity / dry air. And as we all know, dry air can lead to dehydrated hair. Hair strands lacking hydration and moisture are more susceptible to breakage, split ends, and manageability issues when you arrive at your final destination.
Furthermore, "Seat hair" -- much like "hat head" or "bed head" -- is also a huge issue for Hueties who love to leave their curls down. The fabric covering of the seats is not complimentary to curly hair. Simply leaning back creates fiction and causes the hair cuticles to become ruffled. We won't even begin to address the problems caused by sleeping on a plane during a long flight.
But there are things you can do to protect your curls while flying.
We're Huetiful, so you know where we will start. Drink Water. Drinking a lot of water isn't only beneficial to your hair. It also helps hydrate your skin. A simple formula is "half your weight" (in fluid ounces). So, if you weigh 160 pounds you should drink 80 ounces of water each day. Add 8oz for every cup of coffee you drink, as well.
The night before your flight, do a deep conditioning or hot oil treatment. It'll reduce the frizz by locking in some extra moisture. For an added boost, heat the treatment with a hot, damp towel or heat cap for the recommended time. And for the most part, try to avoid treatments that list alcohol as one of the top four or five ingredients.
Some Naturalistas feel more comfortable traveling with their hair up so that they don't have to deal with the full head of hair getting in the way. It's convenient and time-saving not to have to worry about it. An Updo or traveling with a Twist In may be the ideal style to protect your hair.
Take a little shine serum or anti-frizz solution and rub it on your fingertips. We have a perfect little 1.7 oz travel size of Huetiful silicone-free finishing serum (available online and at our salons) that is virtually weightless and that will help seal in moisture while all that dry air surrounds it. A scarf or headband also is a good traveling look, keeping your curls off your face in style.
Packing is a little difficult for some overly concerned curly girls. They're under the impression that they need to pack all their special shampoos, conditioners, and 50-odd styling products. If you're going abroad for awhile, pack the products you can't live without. Leave the rest at home. If you're looking for great travel sized products, we carry the Deva Curl Travel Kit at all three salon locations.
Ok - you're now ready to hit the friendly skies without having to compromise your look or the health of your hair.
BOOK NOW